Flower Subaru is focused on the health and safety of out employees and our guests. This has become a top priority for the Flower family. 
With the developments surrounding the COVID-19 pandemic, Flower Subaru has implemented the precautionary efforts outlined by the CDC Organization. In addition to our daily facility cleaning, our staff routinely disinfects all work areas and common touch points throughout our building. Service Advisors and Technicians are wiping down vehicle interior touch points and wearing gloves. Our efforts to maintain a safe work environment for our employees and . We guests will; continue to adjust according to the CDC guidelines. 
Our service department will continues to stay open to serve your critical vehicle needs. We are stressing for employees and guests to stay home if they are experiencing any of the symptoms or have reason to believe that they have been exposed to COVID-19. Please take your own precautionary actions and help us all to do our part in keeping our community as healthy as possible. 
We will be adding a pickup and delivery for service customers within a 10-mile radius, along with our shuttle service. Please call for scheduling.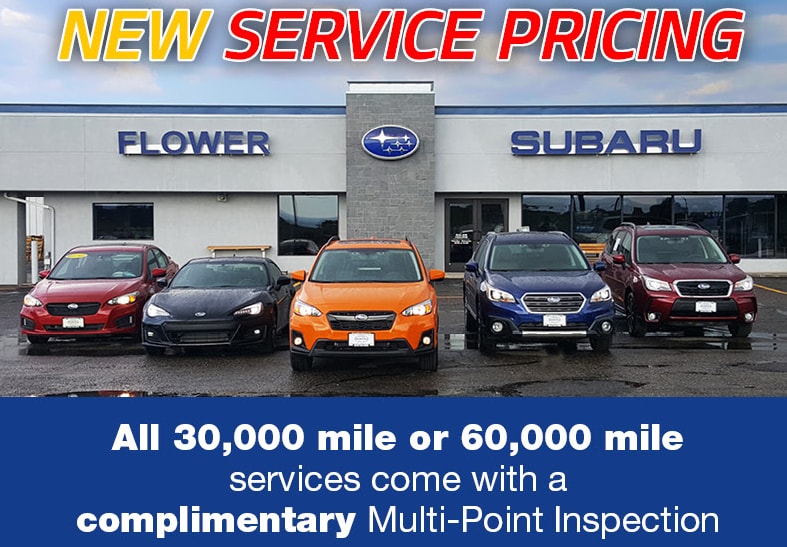 30,000 Mile Interval Service
Due at 30,000 miles, 90,000 miles, 150,000 miles, etc. 

Perform:


Replace oil filter, oil, drain plug gasket
Rotate tires, inspect tire wear, inspect for tire damage, adjust tire pressure, torque lug nuts to factory specs
Flush brake system
Replace engine air filter
Replace cabin HEPA filter
Service battery, clean battery terminal ends, check battery condition 
Lubricate all door latches, liftgate latch, trunk latch, hood latch




60,000 Mile Interval Service
Due at 60,000 miles, 120,000 miles, 180,000 miles, etc.

Perform:

Replace oil filter, oil, drain plug gasket

Rotate tires, inspect tire wear, inspect for tire damage, adjust tire pressure, torque lug nuts to factory specs
Flush brake fluid system
Replace engine air filter
Replace cabin HEPA filter
Replace spark plugs. (price may very based on engine)
Service battery, clean battery terminal ends, check battery condition
Lubricate all door latches, liftgate latch, trunk latch, hood latch
Factory trained technician to conduct road test
 Multi-Point Inspection includes:


Drive belts, adjust if needed
Brake system, brake pads, brake rotors, condition of brake hoses and lines
Suspension system, including struts, bushings, control arms
Wiper blades, washer operation
Cooling system, hoses, radiator, radiator cap, water pump
Exterior lights
All fluid levels and condition